Everyone gets excited by a big retail contest: there are prizes to be won, discounts to be won, a game to be played. But while consumers consider this kind of promotion to be like a lottery with millions to win, marketers see the event as a massive coupon drop.
When you consider that the majority of the prizing is in bounce back coupons and food prizes, you understand why marketers feel this way.
We have helped many of these "contests" be successful and they are great promotions.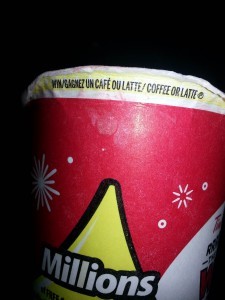 The coupon prizes amount to the greatest contribution to the "millions of dollars in prizes" in the pool. While they may be seen as prizes, they are merely disguised bounce back coupons – designed to get customers to come back for further purchases.
These are food wins such as "free fries with sandwich purchase," or "Free Coffee" (as our sample shows) or discount wins "20% your next purchase." Normally marketers would have to pay to deliver these to customers, but with a contest, we hope, customers will come running to get them.
Successful contests provide a catalyst to get customers and staff involved and amped up in the mayhem.  The customer is playing for a few grand prizes like automobiles or vacations.  But these are really draws to get those coupons out there. 
The big lure – Over a million dollars in prizes to be won! Of which half is coupons for return visits.
A good contest design has a nice balance of real prizes and coupons. When McDonalds or Tim Hortons started their evergreen contests (Monopoly and Roll Up the Rim), there were more prizes and less reliance on coupons. Once the contest has its own legs, it doesn't need to be stoked with as many real prizes.
Prizing is often sourced by leveraging the advertising value of the contest. For example, we have negotiated with car companies to get free or under priced vehicles in exchange for the million dollars in advertising value they will get. Believe it or not, manufacturers have formulas for such exchanges.
The cost of the food giveaways can also be sourced in part by a restaurant chain's suppliers – beverage companies and fries, etc. And we love it when we can amortize the value of the "prize" over future purchases.
So when you buy a meal deal and get a free drink, you are pretty much covering the cost of food, labour and some profit despite thinking you are getting something for free.