The Juno Awards was an annual private music industry awards ceremony for insiders, wearing tuxedos and gowns, until 1995. The organization that put it on was the Canadian Academy of Recording Arts and Sciences (CARAS). They had this crazy idea that they should be making money from it rather than losing or at best breaking even.
Enter Jacques Burelle, the event sponsorship maven. Jacques had a long history of developing successful events, F1 in Montreal, the Molson Indy, and more. Jacques was hired to find sponsors for the show and, get this, sell tickets to the public. He negotiated a deal with Copps Coliseum in nearby Hamilton, Ontario over some protests that executives didn't want to leave Toronto and it was a smaller market to fill the seats for the event.
Jacques hired Calexis to do the advertising for the event. We had already worked together on International Gymnastics events and the Canadian Figure Skating Association national championships
The problem for us was that the CARAS Board didn't believe we could be successful. As one Director said, "Who's going to buy tickets to see Rock then Country then Folk all in one concert? It simply won't happen."
Our job was made a little difficult. It was a time of transition in recording media and we had VHS, UMatic, CDs, and tapes of the various acts which had to be stitched together. Also, we were required to show the wide range of music in our support materials. No easy job.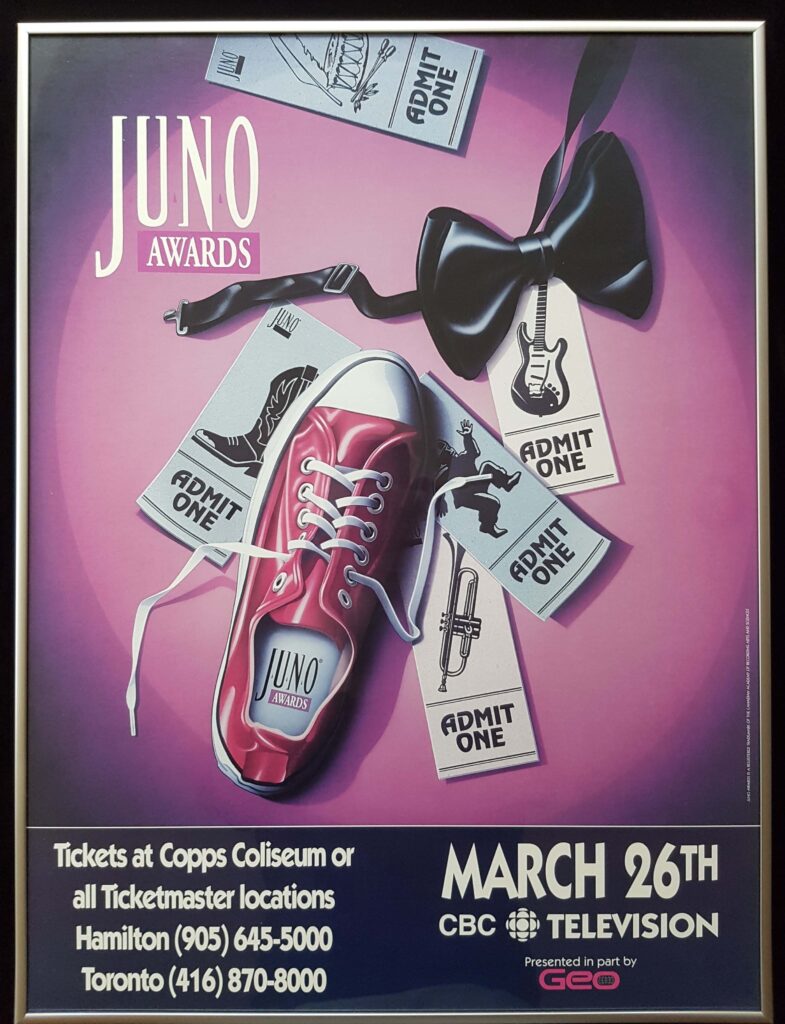 The first stitching came from the brilliant mind of our Brian Hannigan who came up with a graphic idea showing a tuxedo bowtie and a red sneaker. We commissioned an airbrush rendering of his layout and we were in business. The graphic was iconic, on CD Jewel cases, T-Shirts, letterhead, tickets, everything.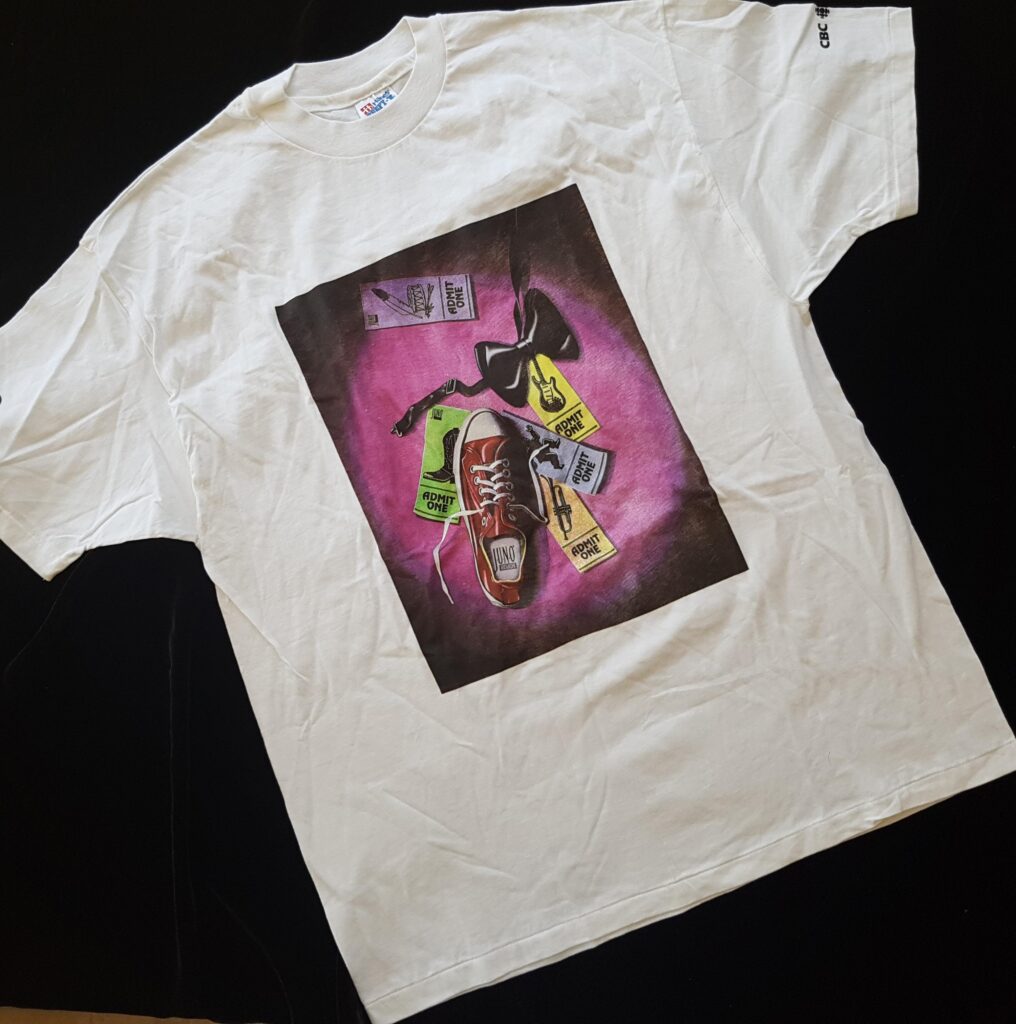 We developed a media plan on a very skimpy budget by getting radio stations, the local newspaper, The Spectator, and local TV station CHCH to partner with us. That got us added media and some production facilities. We hoped to make the Junos the biggest "need to go to" event in Hamilton.
When we presented the media plan to the Board, the same Director looked at the plan and asked "Are you going to get any response with such a small amount of media?" After all, it was only a 3 week plan.
We stitched the video together from all the disparate sources we were given. We needed what we call a scratch track to cut to, that is a voice that read the script to time so we knew when to cut in and out of the music. I did the track myself.
When we presented the rough cut commercial to the Board, we told them that we would record the announcer later, once we had approval of the edit. They all thought it was a masterful job, except one Director who pontificated "I like the cut, but the announcer is weak. You are going to have to recast and rerecord." He was serious and seriously hadn't been listening.
Our media started and tickets were sold out almost immediately. We got a call ten days into our media from our favourite Board Director, he of the "rerecord," telling us to cancel all the media immediately. "You have obviously bought too much media!" he slammed. (Yes it was also the same guy who had told us we would never sell any tickets.)
The show was a sellout and it opened the door to a long history of celebrating Canadian music, not just with the industry, but with the public. This is critically important because at their hearts, award shows are truly just about promoting your product – whether it is music, movies, books or whatever.