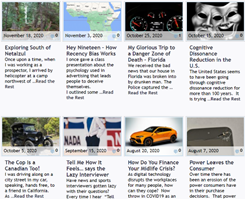 After a few hundred blog posts, for myself and others, I might have learned a little on how to put a good post together. So here are a few tips for anyone starting or considering putting a blog together.
It is really quite simple if you stick to some easy rules:
Have a Snappy headline
Feature an Intriguing graphic
An engaging starting sentence should bring people into the story
Keep it short, 400 words is a good target
Finish with an ending that relates to your starting sentence and headline
Publish a story regularly, set a schedule for yourself
Snappy Headline – a provocative headline brings your blog post to readers' attention. It should create some curiosity related to the content of your post. Take care not to be too clever or cryptic because you will lose potential readers if they don't understand what your post is going to be about.
Intriguing Graphic – this should also be an attention getter and be relevant to the content of your blog. The human brain processes graphics faster than it can read and understand words.
Opening Sentence – the topic sentence, the lede, the intro…the first sentence has to capture the readers interest to get them to continue to read
Keep It Short – Everyone seems to have attention deficit these days and no patience either. Unless you have a very involving topic keep your blog posts short. Target 400 words, but don't fret too much if you are over or under. The structure should be a start that sets the table, the central section is the meal itself, laid out clearly.
Finishing Summation – at the end of you post should sum up your argument, the point you are making, with your blog post. Wrap it up in a short simple clear sentence that crystalizes what you want to say about your topic.
Regular Publishing – if you want to gain and build regular readership, you need to publish a post regularly. People have a tendency to start by publishing a raft of posts, all those pent up ideas come bursting through – Don't do it. If you write 4, 5 or 6 at the beginning, schedule them for publication over a couple months. This not only helps with your readers, giving them a constant stream of posts but also with search engines if you reach a high enough readership.
When you have an idea for a post you want to write, start with a quick draft and then edit it.
Editing is the hard part. Once you have written something, you see every word as a gem. They are not. Put yourself in the reader's chair and then leave out the obvious and redundant. Respect your readers.
While a new idea may burn hot for you, resist publishing it until you can look at it objectively and see it in the context of your entire blog.
Review your posts from time to time to generate new ideas and make sure you are not being redundant.