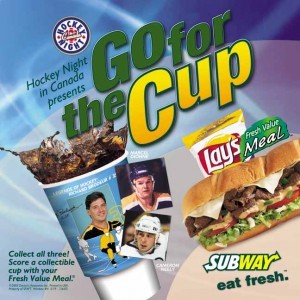 We were pleased a few years ago when our Media Director advised us that she had negotiated a free promotion activation from the CBC.
She got a promotional tie-in with Hockey Night in Canada (HNIC) for our Subway client and, even better, it was to run during the highly rated Stanley Cup Playoffs.
All we had to do was produce a 30 second commercial and tie it in to HNIC. Our client was very happy and so were we; but time was tight.
So we developed a few promotional ideas, all of which our client liked.
Then we learned that the CBC would have to approve whatever we wanted to do, too. So, we quickly organized a conference call with the CBC and our client, who was located in the US.
We pitched the ideas. All of which the CBC rejected.
Unbeknownst to us before, it seemed that our tie in with HNIC could not include any of the following:
Any reference to the Stanley Cup
Use of HNIC announcers, including commentators like Don Cherry
Use of HNIC signature music
Use of NHL players
Use of any NHL footage
Any reference to team names
And there was no budget or time to use any current players since they were playing with their teams
All our ideas had included at least one of these items.
Right then!  What could we use? 
Well, the CBC representatives cheerfully volunteered "you can use the HNIC logo"… not a lot to work with. And, click, our call was over. Our client, understanding the urgency, asked for another call the next day with new ideas.
It hit us that night to take an antihero route. If we couldn't use any of those valuable Stanley CUp associated properties – let's go guerrilla.
That night, I phoned a former NHL player, Richard Brodeur, who I knew well enough to ask about a novel idea.  Richard had been a goalie with the Vancouver Canucks in 1982 and had performed incredibly, maybe miraculously, in helping the Canucks get to their first Stanley Cup Finals since 1915. As we Canadians would say, "he had the hot hand," "he stood on his head," "he carried the team on his back." But in the finals, the Canucks lost.
The Stanley Cup is unique. Every winning team player has their name engraved on the base of the trophy. That is why the base of it is so large. It is not just the team name, but every player on the winning team gets his name on the Cup.
So, as we say in Canada, "Richard never got his name on The Cup."
Our idea was to provide some collectible plastic cups in Subway stores with outstanding NHL players who never got their name on The Cup. But now, thanks to us and our Subway client, they would "Get their name on the cup."  Of course, we would never mention the Stanley Cup, but by inference, everyone would understand.
Richard thought the idea was fun and was willing to participate. I had been worried he might be offended. He also said he would call a couple of other players who were similarly in the wrong places and never made it to winning The Cup.
I was glad I could talk it over with him that night, thanks to a three-hour time zone difference between Toronto and Vancouver.
The next morning we pitched the idea to Subway and they loved it. Because it complied with all the restrictions they had given to us, the CBC couldn't say no. To show a little gratitude as a concession, we included their HNIC logo in the commercial and on the cups.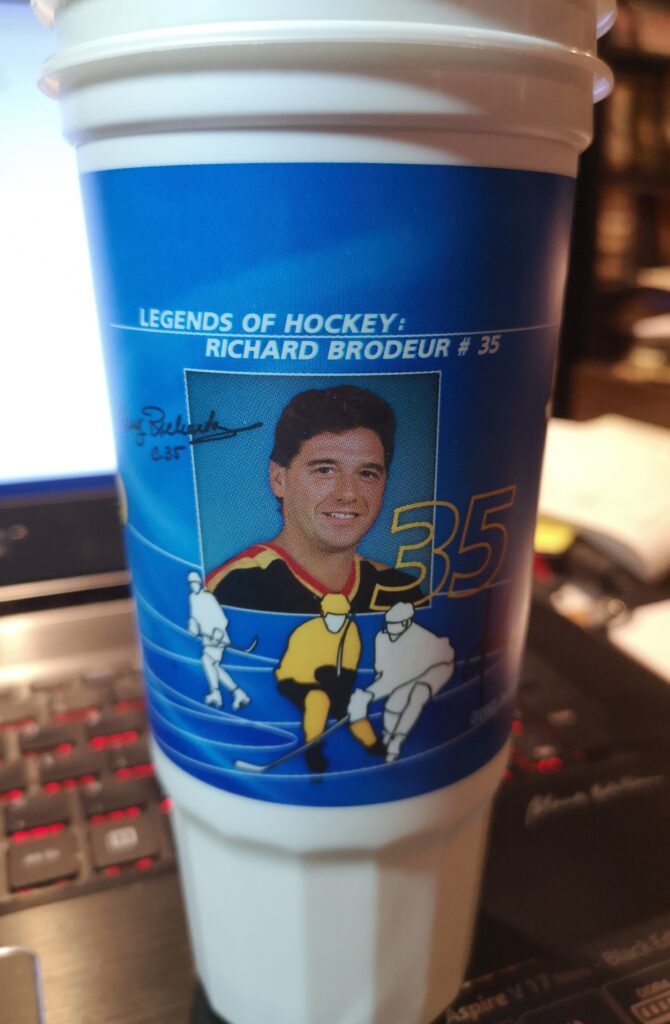 We developed a 30 second TV commercial to run during the playoffs. It featured Richard and Marcel Dionne in a Subway store. We also designed in store point of sale and a series of collectible plastic cups with youthful photos of three greats whose name had previously never been on The Cup. We still have a few around.
Our thanks to Richard, Marcel Dionne and Cam Neely for having a great sense of humour about their playing days. It was the first commercial like this for Richard and Marcel where they had to do a little acting and they were great to work with. The CBC, not so much.
At the end of the Stanley Cup playoffs, the promotion had been a great success, driving sales without any apparent endorsement from organized hockey, the NHL, any active NHL players or teams, any CBC hockey announcing staff or commentators, the HNIC music or even any mention of the Stanley Cup.