Everybody thinks they know advertising and can provide us with a critique of what's good and what's not. Rarely do I hear criticism that shows consumers understand the strategies we employ to get messages across.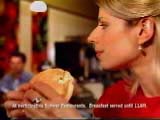 More often than not people evaluate commercials based on entertainment value. We don't.
I recall shortly after we had begun airing a commercial for Subway launching their breakfast. My son and I were in one of the big box club stores. When we got to the checkout, the cashier looked at my member card and said "Calexis. What's Calexis? What kind of company is that?"
"Well…" I stammered, "we are an advertising agency."
"So what have you done, that I have seen?" she asked, maintaining her dismissive yet friendly demeanor.
"We just aired a commercial for Subway, launching their breakfast," I said.
"Oh yeah? Is that the commercial where the girl wakes up and has problems with her contact lens. And then has to dodge some dogs walking down the street? And then goes into a Subway for breakfast where some guy gives her the eye? Well, I have been into Subway and I have tried their breakfast and it was really good," she said, finally drawing a breath.
"Terrific!" I say.
"…but your commercial sucks!" she says.
"Huh? What do you mean?"
"That girl! Why did you choose that girl? She has a big nose!"
As we I walked out, my son said, "I don't think she liked your commercial" but I was thinking…
she had remembered seeing the commercial
she had incredible recall of the details of the commercial
she had been motivated to go to the client's store
she had tried and liked the product
For me this was a grand slam home run. The commercial was provocative, memorable and convincing enough to gain trial. It successfully launched Subway's breakfast business.
The commercial ran across Canada for two years, was picked up for use in various US markets and ran for two years in Australia. Not bad since it was only supposed to run for two local promotional periods in Ontario. Plus, based on business results, the commercial was a huge success.
What more could we ask for?
But to this consumer/commercial critic, the commercial sucked.
My conclusion: Always cast girls with big noses!